SourceSeek just published the Eastern Europe edition of their Global software marketplace insights. SourceSeek has a vast collection of data to draw from, so the report reveals and confirms with high level of accuracy several key takeaways for any organization from North America or Western EU looking for the right outsourcing partner.
Eastern Europe key facts
Golden age for outsourcing IT to the Eastern Europe has begun in 90´s and really took off after 2000. Generally accepted reasons for its success are:
Favourable location to clients from Western Europe
Similar culture with both Western Europe and North America
Strong focus on good education
Support for STEM sciences
Great price / value ratio
SourceSeek states average rate per hour at $39 with average project cost at $140.000. Being averages, you can find dedicated developers working for slightly less and also experienced outliers going for $60 per hour.
Teams
Russia is an outlier with highest longevity of their teams due to continuous domestic demand in the past. Romania and Belarus are examples of mature IT market with bigger teams working together for a long time serving enterprise level clients. Multinational corporations clearly favour these countries for their ability to deliver at scale with consistent results.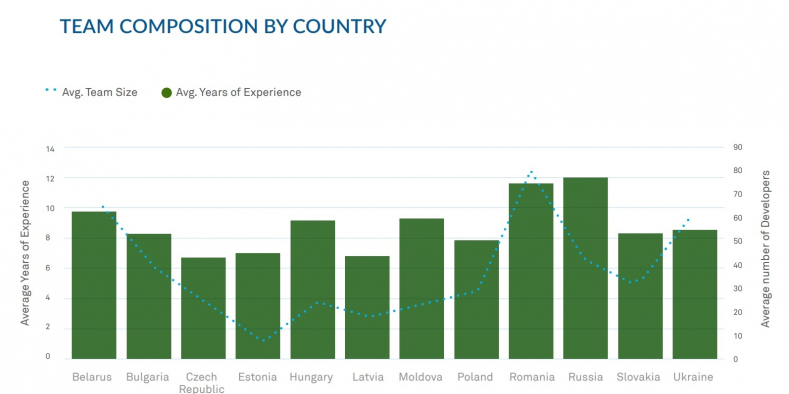 Smaller teams with less experience from countries like Czechia or Estonia usually focus on cutting edge technologies and are top choice for SME or startups who don't need hundreds of developers, but rather experienced developers using modern tech stack. Estonia even has more startups per capita than Silicon Valley.
Technical specialization
Eastern Europe is very variable region supporting every technology out there. Main long term trend is higher focus on newer technologies like JavaScript based back-end, specialization in IoT, AI or blockchain.
Other popular outsourcing destinations like South Asia tend to focus on development with Java or Wordpress which bring in the cash, but doesn't necessarily excite advanced developers.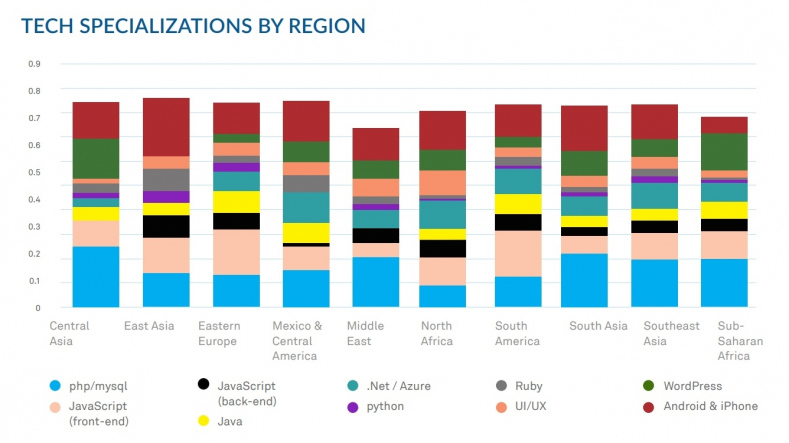 Eastern Europe excels at JavaScript frameworks like Angular, React, Vue.js or Node.js; Python or Ruby on Rails. As with team composition, this division goes in hand of larger corporations utilizing providers in Asia and startups or SaaS going for modern stack in Eastern Europe.
Pricing
Higher prices are key disadvantage of outsourcing to Eastern Europe since they are sometimes double compared to other regions. Outliers are Latvia and Estonia with highest average above $50 due to their proximity to less price sensitive scandinavian clients and Moldova with average price of $20 similar to Asian average due to brain drain and shortage of experienced developers.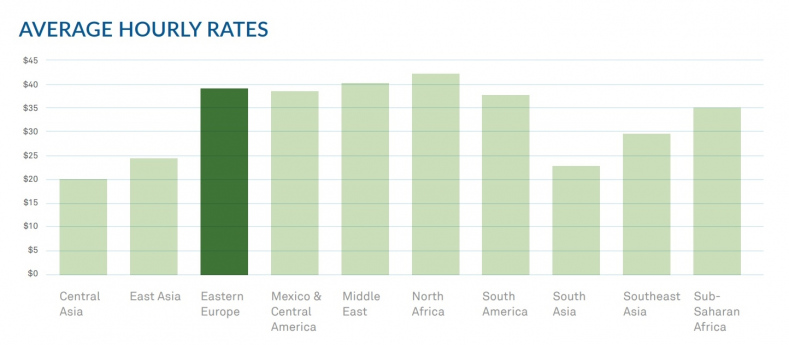 As popularity of outsourcing to Eastern Europe grows, it gets more difficult for providers to hire enough developers from already short supply of talent. This will result in even higher prices over time and might make region's value proposition less attractive.
Rising cost is noticeable in other regions as well though, so even though a decade ago the price difference between Asia was almost four fold, nowadays is half that.
Cost cutting enterprise client will still favour Asian providers though, accept overhead for time difference and culture fit and still achieve desired ROI.
Education
Education is culturally highly valued asset in Eastern Europe and strong focus in STEM gives graduates solid foundation to excel in technical fields like information technology. Lean times of former Soviet Union has left cultures of Eastern European countries with legacy of DIY problem solving mindset resulting in elegant dependable solution instead of ugly code.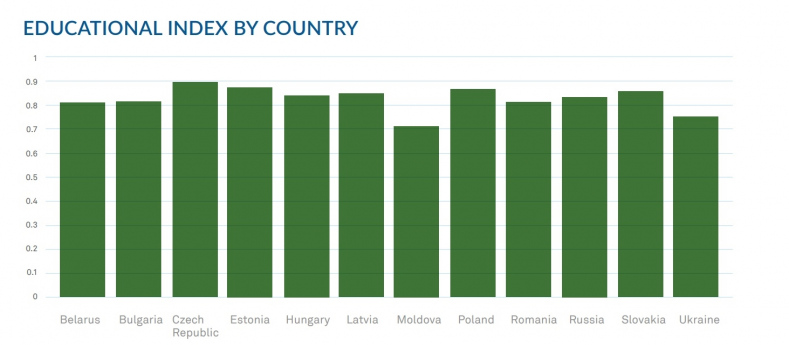 English speaking levels are amongst the highest in the world with several exceptions like Ukraine where general population doesn't achieve proficiency levels of other countries, but IT workers are very capable.
Being focused on education in math and sciences, it's no surprise that Eastern European countries are exceeding others in these areas by 11% and 10 % respectively with Czech republic leading educational index in the region. Research from OECD somewhat confirms superior reputation of local developers, even though not by vast margin.
IT ecosystem
SourceSeek rates ecosystems by their unique method and places Eastern Europe on top of the chart amongst those compared.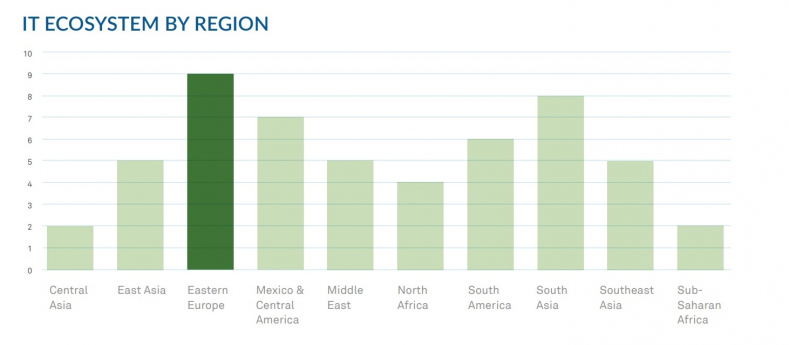 Several key factors play decisive role in how strong the ecosystem is. First is tight cooperation between universities and companies. This results in graduates being prepared to deliver value from day one, creates research opportunities leading to many startups founded at universities and allows education programs to stay relevant.
Second is a community aspect with many various meetups and conferences to share knowledge, network and grow. You can find anything from big international events with star speakers and very popular hackathons to independent meetups in almost every small city.
Startup environment connecting together investors and entrepreneurs is third reason for mature ecosystem. Successful new tech companies can be founded, scaled and exited with local support only and without need of traditional more mature regions like North America or Western Europe.
Culture
National cultures has obviously some differences from each other, but generally speaking culture of Eastern Europe is well suited for cooperation with clients from Western Europe and North America. Culture being one of key elements for success with outsourcing, this is a definite advantage over other regions.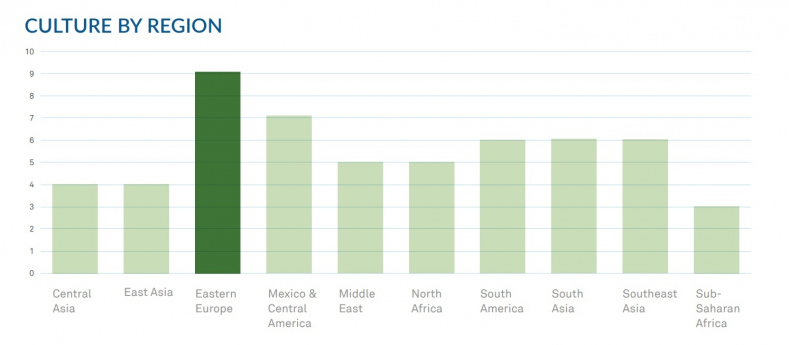 Communication style is frequently the first major difference noticed. Developers are very straightforward and assertive, there's no need for saving one's face or respecting artificial seniority. Sometimes developers might appear too strict and serious in their focus to get things done right and deliver superb result, especially to US clients who are used to expressing overall very positive attitude. Compared to more hierarchical cultures, this approach usually enables projects to be delivered faster due to more effective communication.
Working habits include communication and also extend to how decisions are made. Eastern European engineers with preference for quality will appear reserved and maybe even pessimistic in their pursuit of obtaining every important input to make the right choice. No matter if it is a small bug fix or complex architecture decision. Rather than overpromise and underdeliver, they will make sure the solution is correct. They aren't always only serious though and will loosen up when it's time to appreciate good work that's been done.
Future
Outsourcing to Eastern Europe is one of strong trends in past years, companies can expect further maturing of the market and more opportunities for growth. Outsourcing trends will be covered in our next article, stay tuned!
All images in the article are taken from this SourceSeek report.