1. Tools of the digital world
Change is the main driving force of our modern world, and so is our ability to respond to change quickly and effectively. As dynamic as the IT environment is, there are multiple paths leading to your goal. But how do you know which path also makes the developers happy and is the right thing for your clients?
There are plenty of options to manage your products – so many tools out there to facilitate your efforts. On the content side, there is WordPress, Drupal, and Joomla among the best known. Magento and Shopify dominate e-commerce projects. And there are also examples of solutions for product information management and digital resource management.
Now that terms like "innovation", "centralisation", and "integration" are getting more and more topical, a fundamental question is popping up: Is there a framework that can include all of the functionalities above? The answer is: Yes! Pimcore is the Swiss army knife across all platforms, a broad spectrum of features, and great potential. Pimcore has no problem meeting all of our demands as well as yours. Digital transformation is here.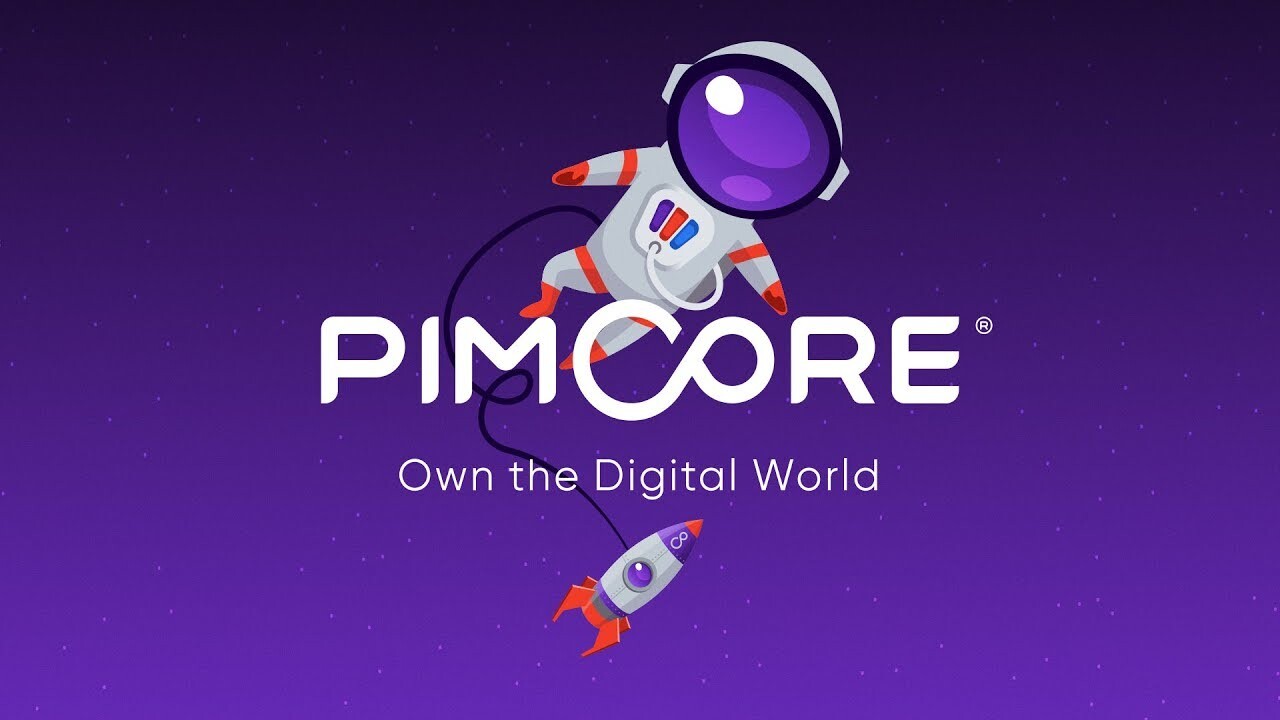 2. The idea behind Pimcore
First, there was an idea. The idea to create a system in which users themselves define how data will be processed and edited. The idea to create a fully open-source platform with complex functionality and, at the same time, simple enough to be used by non-technical staff. The idea to combine developer tools, project management, and marketing. Utopia? No, not quite. It was a success!
The creators gave birth to software whose content is fully editable. That opens up brand new opportunities in the field of agility, flexibility, and creative freedom. In general, you can broadly modify whatever you see in the interface any way you like to. You can create websites and mobile apps this way.
Pimcore's approach to data sets it apart just as well. Particularly effective is the way data defining relationships or field types are saved; there is no need to write a single line of code, and you can manage both structured and unstructured data. You can look up any record saved in the database very easily through simple queries.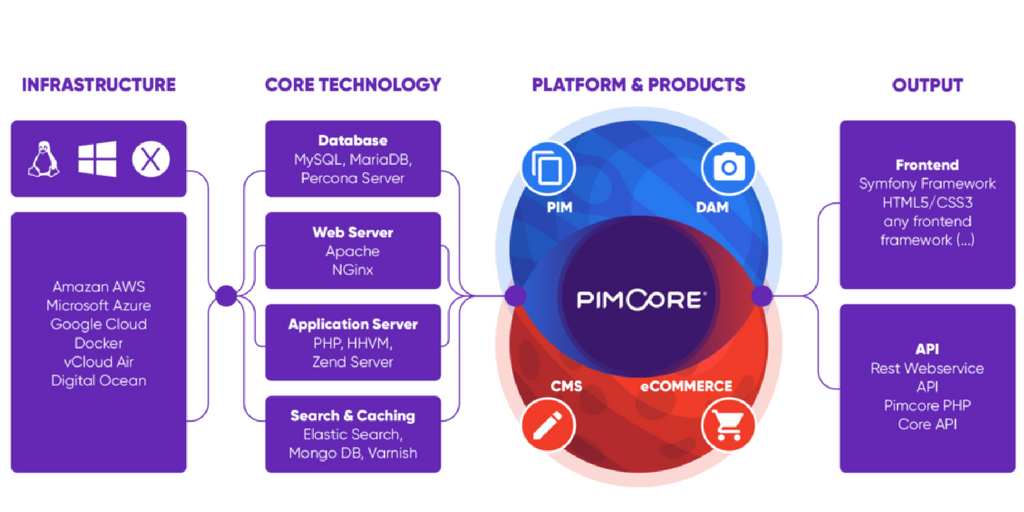 Several functionalities make Pimcore a true digital platform. The combination of leading open-source product information management (PIM), master data management (MDM), content management system (CMS), customer relationship management (CRM) and e-commerce give customers an environment where the majority of their demands are met. Various configurations and add-ons can be used because of Pimcore's scalability.
Watch this short video with PIMCORE introduction in their own words:

3. Benefits for customers
Pimcore brings you remarkable potential. And the positives are multiple:
Value for money
As we mentioned already, Pimcore integrates several areas of the digital platform. You only "pay" for a single solution, saving both money and time. You save time in areas like integration, settings and adjustments, development, and maintenance.
Up-to-date, flexible, top quality
Pimcore keeps up with modern times! It constantly delivers updates, new ideas and tools, all of which result in excellent operating stability.
Agile solutions are all over the place in IT. Highly flexible "connect anything" architecture is, therefore, the best way to manipulate master data. Thousands of products with thousands of attributes? No problem.
Huge data sets usually bring about difficulties in processing. Only a few hundred items linked among one another means millions of lines in a database. Pimcore not only assures the quantity of these products and their attributes but also puts emphasis on the consistency and quality of the data.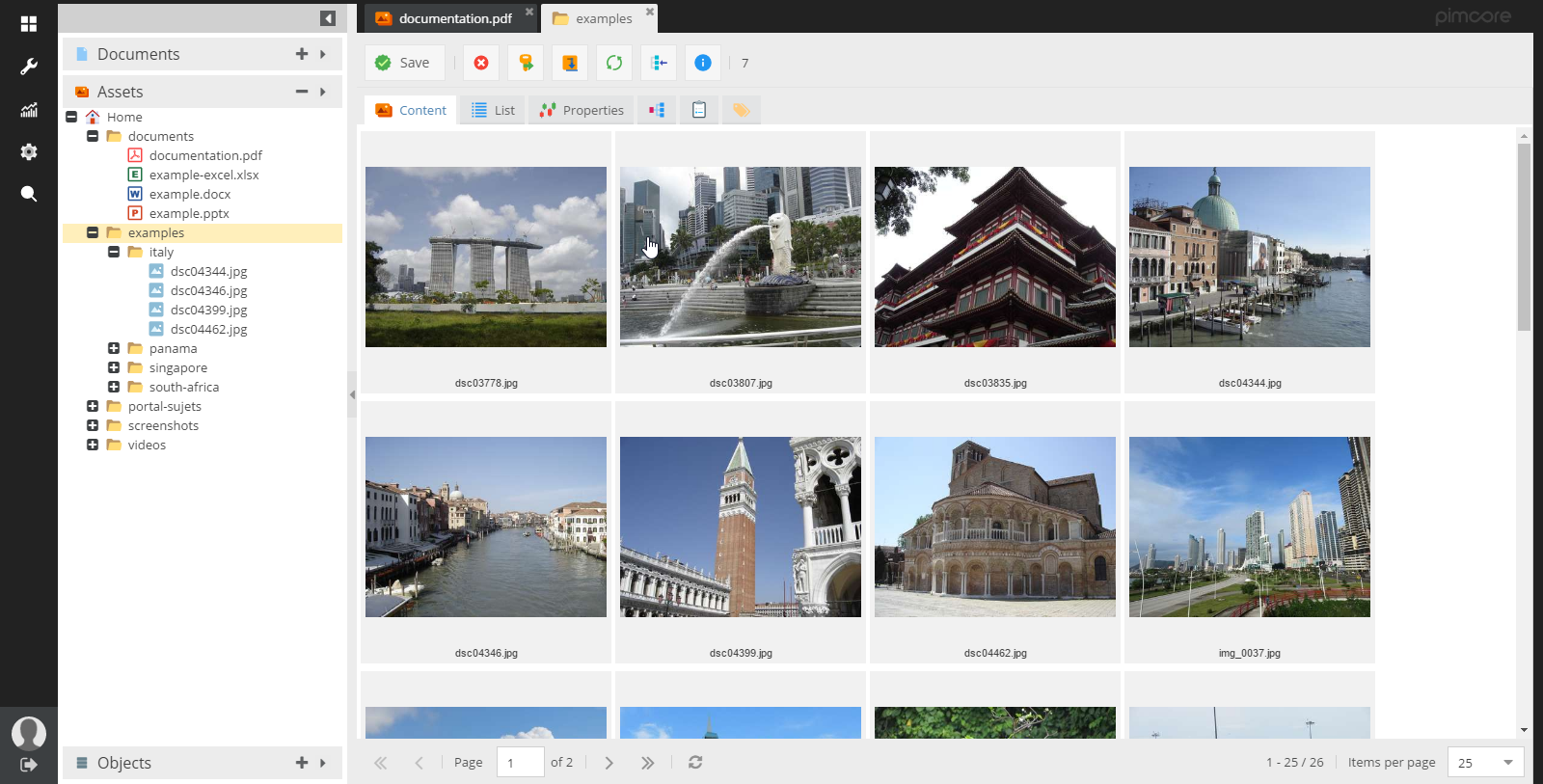 Easy and effective to work with
Data is fundamental. Pimcore unifies data from multiple sources and centralizes information that way. And as all the information is in one place, it can be processed and handed over to specific projects without a major effort.
It has never been easier to implement portals, websites, or e-shops. You don't have to be a developer, and you'll still be able to modify any data. You can focus all of your attention on working with the content with just a minimum need to know the technical background. By integrating CMS, you can easily modify not only product information but also graphics without changing the functionality of the content.
The modules are linked between each module other totally intuitively. While you are creating individual products in PIM, the DAM is processing images and photos, sorting and editing them. The matches between them are created in the next step. You then just move on to the e-commerce module, which is the gateway to sales. Combining the modules is probably the biggest benefit offered by Pimcore. It is the ideal platform for B2B. It is low-cost, reduces risks, and is effective and easy to use. Each of the modules runs on the same technology, saving you the time you would otherwise spend on a complex integration of various separate systems.
4. Benefits for developers
Let's also take a look at what we at Kurzor like about Pimcore. Let's summarise where we see the biggest strengths of this framework and why we prefer it over solutions from competitors.
Full open-source
Free and unlimited use without any licence fees is one big reason to try out Pimcore. Low barriers to entry allow anyone to use it. No exceptions. The only service you pay for is specific company support.
Steep learning curve, and time savings
Two weeks. That's how long it takes to train a competent developer after switching to Pimcore. Symfony, the popular framework, easy-to-navigate architecture, along with a large number of materials available, make up the building blocks of success, resulting in effective time savings. You are left with much more time on your hands to improve quality and usability.
Narrow community
Developed by developers for developers. The whole platform is based on this very idea. Although there are not so many Pimcore users as there are users of competitive systems, the worldwide community is highly active and willing to share information. Cooperation on projects among multiple companies is a totally regular phenomena, even internationally.
Data integration
The API interface, standard nowadays, is supplemented with support for older systems. But Pimcore also uses various input formats, from Excel spreadsheets through XML to JSON, as well as non-text inputs such as EAN bar codes, images, and others. This helps cover a fairly broad IT spectrum.
5. Worldwide experience
You already know that Pimcore is a platform that can help you create complex user experience tailor-made to the customer. A broad range of tools to process, segment, and target end users adds a new dimension of adaptability. Every client has different demands, abilities, and specific company environment. You are making a mistake if you assume that a company must adapt to newly selected modules. The opposite is true. Pimcore adapts to you!
There are over 100 companies worldwide using Pimcore today. Let's take a look at the best-known, competitive solutions across rather varied businesses.
PEUGEOT
A number of automotive clients use Pimcore to cooperate. Audi, Nissan, Suzuki, and SEAT are among them. The motorbike branch of Peugeot did not hesitate to reach out for a modern platform. Peugeot, as the oldest scooter manufacturer in the world, was lacking behind competitors when it came to its outdated website.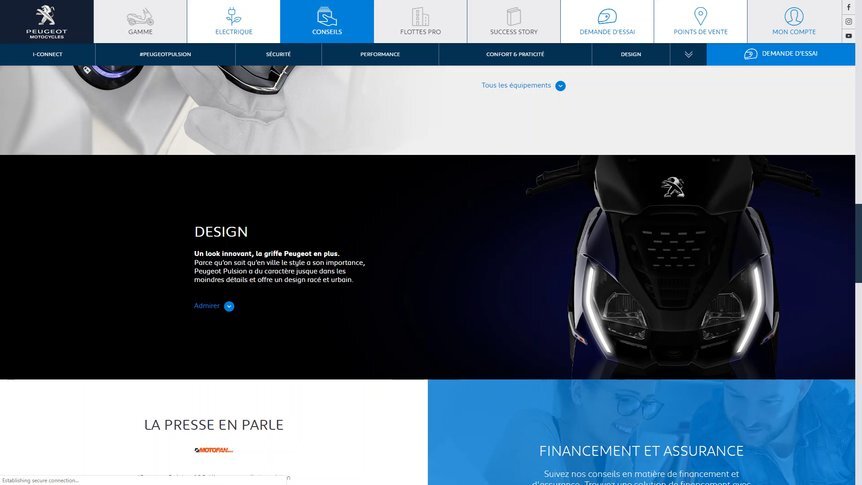 The company's website is a key sales tool allowing all potential customers to obtain any information they need for their purchase decisions. In the past, Peugeot's website was not extremely helpful in this regard. It was not optimised for mobile devices and its customer focus was insufficient. The process of adding each new scooter model was too slow, error-prone, and completely lacking automation. Outdated designs were just the tip of the iceberg compared to the lack of functional attributes.
The new website environment was not only supposed to capture customer attention but also make work easier for the company's employees. As Peugeot is a company doing business internationally, it was desirable for the website to feature several language versions prepared for individual continents and countries. Pimcore was the clear and easy choice.
The most important outcome was the private admin section assigned to individual dealers, who are now able to create and manage personalised, independent microsites. Similarly, an easy-to-use system was built for adding new products, providing all the necessary information, including prices. An advanced search engine based on consumer habits will help indecisive customers choose a suitable model. Another new feature was a request for a test ride.
With the benefit of a hindsight, was the change a good one? Yes, very good, indeed. The key result is time savings – opening up new opportunities for Peugeot, especially in the area of communication, sales, and marketing. Dealers can now work easily with information both about products and clients. Databases are always up to date. Customer interaction has moved up to a new level, which is also documented by the increased traffic going to the new website.
Czech National Heritage Trust
The Czech National Heritage Trust comes from a completely different background. An association whose goal is to save the cultural and natural heritage needed exactly this kind of a platform, covering up to hundreds of microsites. Each of them will represent one of the many castles, chateaux, and other historical monuments on which time has taken its toll. The structure of the monument microsites will be the same, and the difference will be in the graphics – colours, styles, and themes. The goal is for the user to perceive each site as a part of one unified collection.
The problem of the previous website was the absence of a system acting as an umbrella for a vast number of subsites. At the same time, there was not enough capacity to administer and maintain the subsites. From the visitor's point of view, there was totally unutilized potential for variety and interconnections – i.e. links between individual monuments and the umbrella institution were almost impossible to notice.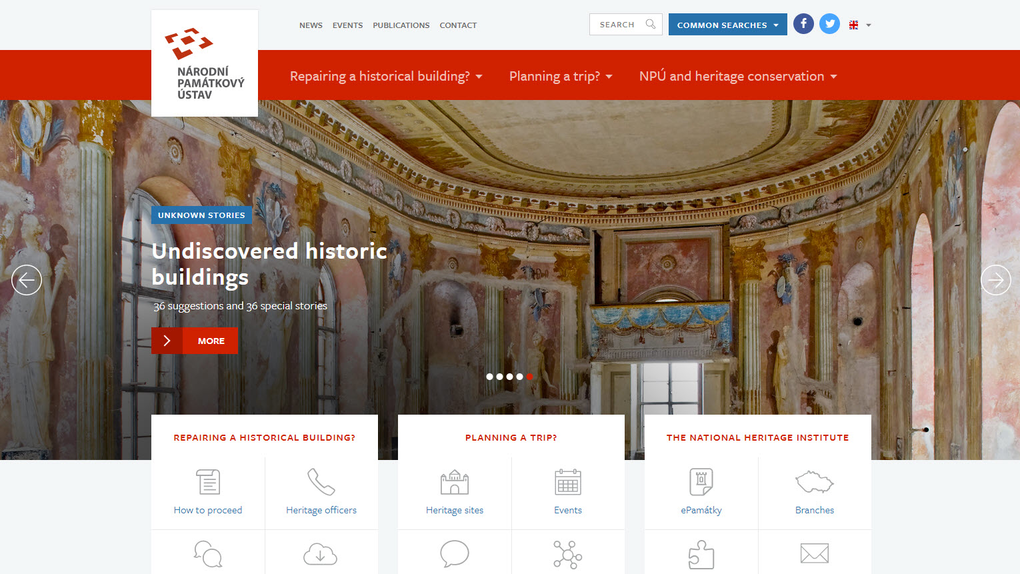 Pimcore was the best tool the market could offer. Microsites were created effectively and, most importantly, built to store high data capacities. Each of the monuments has its own admin who is able to manage and organize the contents at his or her discretion. Specific documents, publications and media files are stored centrally, which makes the Trust's access much easier.
And the results? The Czech National Heritage Trust celebrated success. By creating and linking a set of dynamic microsites, substantial improvements were achieved in particular for the user. Finding your way around the website environment became much user-friendly, and people started navigating through links easily. That allowed them to discover hard-to-find places which are really worth seeing. Not only Czech, but also international visitors found what they were looking for because of multiple language versions and tourist guides. That drove up the number of visitors and revenues for the organisation.
Corsair
You will find very well-known companies even in the IT business using Pimcore. Corsair is one of them – becoming better and better known over the last three decades, producing high-performance computer components and accessories. As its product portfolio kept expanding, the main incentive to change was to make data optimisation and centralisation more effective, simplifying the purchasing process, and – last but not least – increasing sales.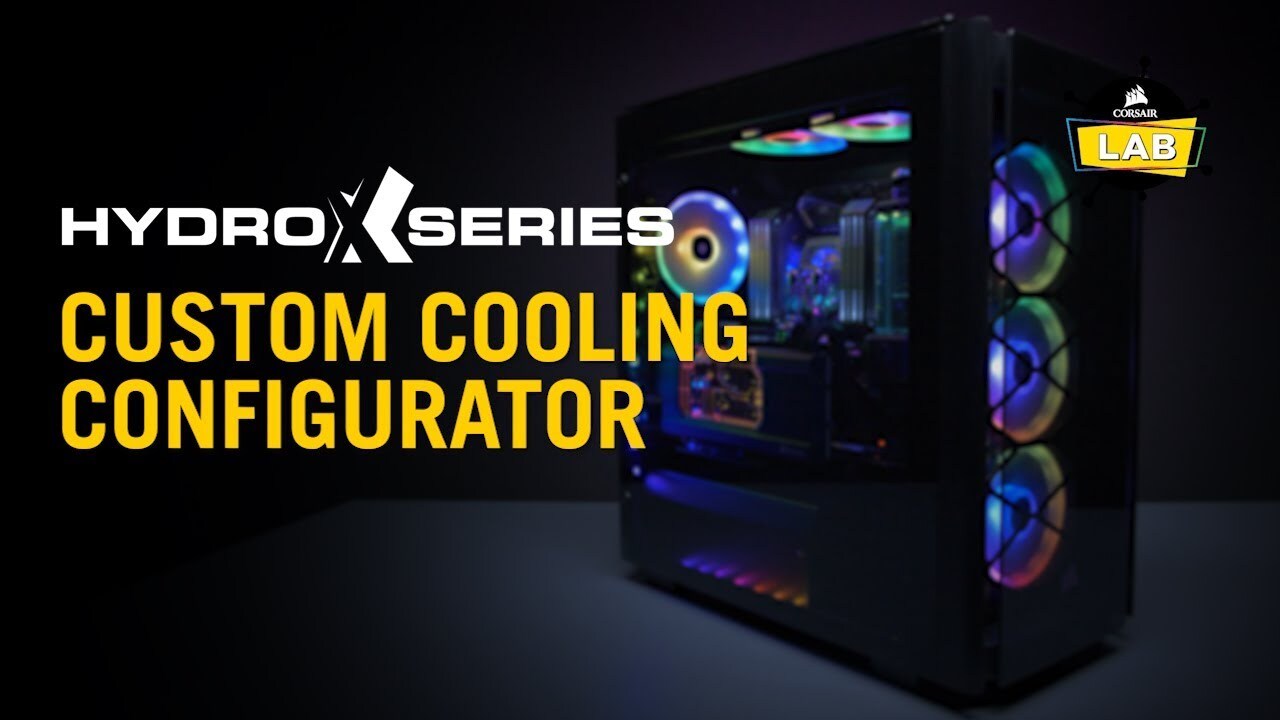 Memory units, power sources, keyboards, mice, headsets, cooling devices, and even gaming chairs. This is an abbreviated list of product categories marketed by Corsair. Hundreds and thousands of specific models, of course, reaching giant dimensions, the database must consist of a unified data model that can cover important requirements and aspects – the product catalogue, price lists, supply chain, and translations to multiple languages.
Considering the vast number of products, Pimcore was selected for the very job of creating optimised data storage. A complex product hierarchy accompanied by a multitude of mutually dependent attributes makes management really difficult. A unified source of information substantially simplified data manipulation. The data is up to date, accurate, and complete. And a brand-new feature comes with it: compatibility verification. The system verifies up to a million combinations, and users can thus verify the compatibility of the components they have selected. The system will offer suitable alternatives in case of any incompatibility.
Internal process optimisation, and the quality and effectiveness of working with information, brought about the results as required. Continual updates of the product catalogue, prices, and inventory, are now available in all languages. The added features like automated recommendations and the verifications of component compatibility are an excellent springboard to improving customer experience. All of this drove up business results – revenues in particular. There is a plan to also roll out Pimcore among distributors as a tool to address new consumers.
6. Conclusion
As you may have noticed, each of the projects above is rather unique with its particular requirements and required results. In each case, Pimcore always managed to deliver to the client specifications. With a sizeable dose of flexibility and a vision of easy use, ideas turned into reality.
Pimcore is different from others in its essence, ideology, and attitude to change. Unlike other solutions in the industry, Pimcore stands out with its possible combinations of tools, deliberately merged into a meaningful aggregate. Where others offer systems with limited functionality, Pimcore excels with a set of interconnected activities giving birth to a true digital platform.
It doesn't matter what you are trying to achieve. A homepage, a structured website, or an extraordinarily complex enterprise resource planning (ERP) system. Pimcore can be the right choice.
Thinking of a tailor-made solution? Get in touch with us to discuss! (No strings attached).